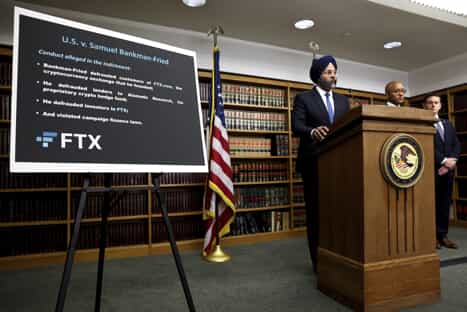 Behind the Criminal Indictment of FTX Founder Sam Bankman-Fried- Part 2- a Witness Emerges
R Tamara de Silva
On December 13, 2022, when I wrote about the U.S. Attorney for the Southern District of New York unsealing a criminal indictment against FTX Founder, Sam Bankman-Fried, I noted the speed within which charges were brought, and suggested that there may be cooperating witnesses. The first of these, a whistleblower witnesses, Ryan Salame, emerged in a Bahamian court filing (22-11068-JTD) last evening.
Ryan Salame is the CEO and President of FTX Digital Markets Ltd (FDM) a wholly-owned subsidiary of FTX. Mr. Salame was the only other person on the board of FDM along with Sam Bankman-Fried and had overseen operations, insured that customers interests were safeguarded, and communicated with the Bahamian regulator, the Securities Commission of The Bahamas (Commission)-or rather failed to do all of the proceeding.
On November 11, 2022, the Executive Director of the Bahamian regulator, Christina R. Rolle, filed an affidavit in the Supreme Court of the Bahamas Commercial Division supporting her request for an investigation of FDM and the appointment of a provisional liquidator for FDM to protect the clients and creditors of FDM. Ms. Rolle acted quickly upon learning in the media and Twitter on November 8, 2022 that FTX had halted customer withdrawals. She contacted Ryan Salame that same day.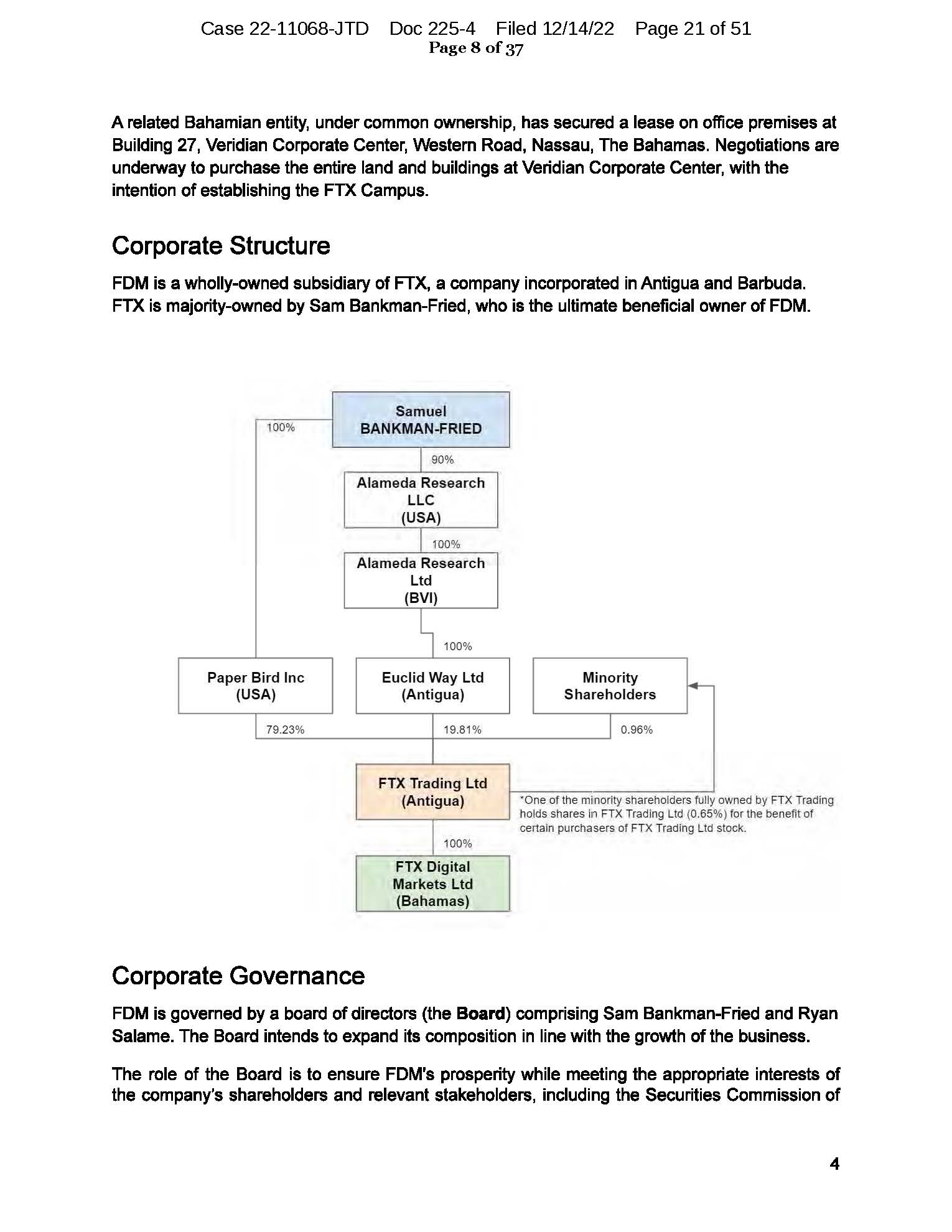 On November 9, 2022, Ms. Rolle spoke with Ryan Salame who informed her that client funds held at FDM were transferred to Alameda Research. He went on the say that there were only three individuals who would be able to transfer client assets: Sam Bankman-Fried, Ryan Salame and Zixiao (Gary) Wang.
This is revealed in page 49 of the court filing which is Ms. Rolle's letter of that same day to the Commissioner of the Royal Bahamas Police Force. In this letter, she also states that Ryan Salame is no longer in the jurisdiction of the Bahamas but in Washington, DC. -though SBF and Gary Wang are in the Bahamas.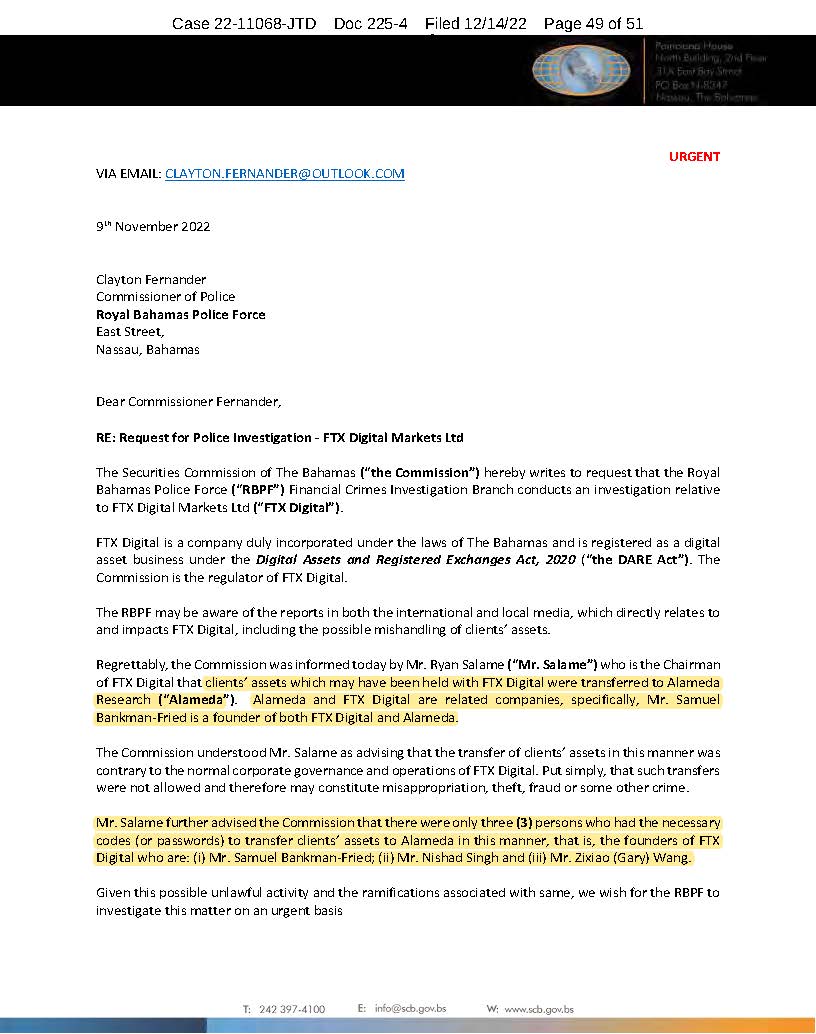 Conspiracy Charges
The fact that two people other than Sam Bankman-Fried could have moved customer funds out of FTX Digital (FDM) to the trading entity, Alameda Research also explains why of the 8 criminal charges in the indictment against SBF, 6 of the eight counts are conspiracy counts.
Conspiracy requires more than one person. A conspiracy may exists when 2 or more persons join together and form an agreement to violate the law, and then they act on this agreement. The elements of conspiracy in the law are generally: 1) 2 or more persons who; 2) Intentionally; 3) make an agreement; 4) to violate federal law or defraud the United states, and then; 5) commit some overt act in furtherance of their agreement. Conspiracy requires intent.
Perhaps there is some logic to Mr. Bankman-Fried's repeated apologies and claims of innocence always followed by his assurance that while he messed up, he did never intended to harm anyone.
Alameda Research
The CEO of Alameda Research from 2021 onwards was Caroline Ellison. Yet Ms. Ellison has not been indicted. Interestingly, she is referenced in both the Commodity Futures Trading Commission (CFTC) fraud complaint and the Securities and Exchange Commission (SEC) civil complaint as not being the principal decision maker at Alameda during all relevant times. Both agencies state that the role of primary decision maker was retained by Sam Bankman-Fried. And unlike Sam Bankman-Fried, Ms. Ellison has been largely quiet since the initiation of FTX's bankruptcy proceedings on November 11, 2022. She was spotted in New York the week of December 9th, 2022 about the same time period during which the U.S. Attorney for the Southern District of New York filed its indictment. It is possible Ms. Ellison is the government's principal cooperating witness.
Please stay tuned for Part 3.
R Tamara de Silva
December 15, 2022
Chicago, IL